Media Center
The St. Rose School Media Center serves K-8 students with books, computers, and classes.  The Media Center is an integral part of student literacy – the ability to read for knowledge and pleasure, write coherently, and think critically about information from all media. 
September News
September is "back to school" month for the Media Center – updating computers around the school,  doing the STAR reading level tests for grades 4-8, and welcoming new students. 
The computers were rearranged over the summer to make all screens visible at a glance. This makes teaching easier

!
 

If you haven't seen it, stop in and see the beautiful cross made for the Media Center by art teacher Mrs. Bertero and the eighth grade class.
Accelerated Reader
Books on the Accelerated Reader program may be found here: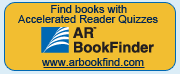 Books not on the program may still be awarded an AR certificate, depending on the merit of the book.  See the librarian for more information on this.
Our students read!
Drop-In Hours
The Media Center is open to students from 8:00 am to 8:20, from 1:00 to 1:15 daily, and from 2:40 to 3:15 daily except Mondays. Students are welcome to return and check out books during these times, and 5-8th grade students may use the computers for school purposes (with permission.)
Wish List
The Media Center can always use donations of appropriate hardback YA literature or children's books. If you would like to know if we need specific titles, contact Mrs. Flaherty. (Sometimes extra copies are very helpful, but we don't have shelf space for extras of all titles.)  We could also use a good, functioning secondhand portable cd player, as the one we have is wearing out!
Volunteer Opportunities
Most Media Center assisting is done by students volunteers. Parents can best help by being available for special, larger projects, or by stopping by and picking up a new book or two to read and evaluate.
Math Games
Can be found here: