Media Center
The St. Rose School Media Center serves K-8 students with books, computers, and classes.  The Media Center is an integral part of student literacy – the ability to read for knowledge and pleasure, write coherently, and think critically about information from all media. 
Accelerated Reader
Books on the Accelerated Reader program may be found here: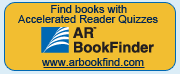 Books not on the program may still be awarded an AR certificate, depending on the merit of the book.  See the librarian for more information on this.
Volunteer Opportunities
Most Media Center assisting is done by students volunteers. Parents can best help by being available for special, larger projects, or by stopping by and picking up a new book or two to read and evaluate.
California K-12 Digital Resources
Online content from Encyclopaedia Britannica, ProQuest research databases, and TeachingBooks.net are available — at school, at home, in libraries, on laptops, on phones — to all.
These three databases are provided for all California students from the California State Library.
A comprehensive interactive resource for research and learning for grades K-12. Includes correlations to California Content Standards and other valuable teacher resources. Post links directly to each school level, elementary, middle or high.
Need help from Britannica? See our support page. (800) 621-3900 x 7160 | edsupport@eb.com
One-stop resources for books you are reading and teaching, including author and illustrator interviews, lesson plans, and other enrichment content.
Need help from TeachingBooks.net? See our support page. (800) 596-0710 | accounts@TeachingBooks.net
https://www.mathgames.com/skill/8.97-powers-of-monomials
https://www.mathgames.com/skill/8.103-powers-of-monomials
https://www.mathgames.com/skill/8.104-divide-monomials
https://www.mathgames.com/skill/8.105-multiply-and-divide-monomials